Tees Music Alliance Present
Bob Log III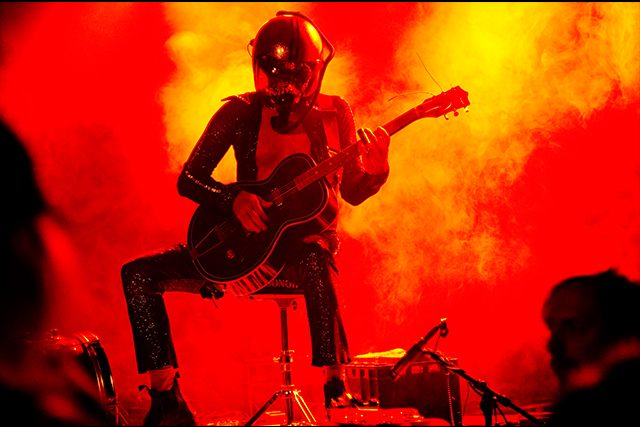 Bob Log's identity and history is shrouded in mystery and rumour, probably helped by his stage get up and also when his record company Fat Possum put out an early press release claiming Log had a monkey's paw grafted on to his wrist after a boating accident as a child. Here's an excerpt....."When Bob Log III was a child, he lost his left hand in a boating accident. It was soon replaced with a monkey paw, and a new guitar style was born. 'It's my own personal style, see,' Log says, 'the paw moves much quicker than a normal hand, so my real hand has to flop around a lot to compensate.'" When asked to explain Fat Possum's insistence that his right hand is a monkey's paw, Log replied to an interviewer that, "My hand is just hairy. Very, very hairy. It is NOT a PAW. Fat Possum was drunk." Log further clarified the monkey paw myth in an interview with Bizarre Magazine: "I've got all my limbs. It's just that when I'm playing my guitar my hand moves so fast it looks like a monkey paw, a hairy paw. My hand moves really fast. Faster than a normal human hand"
In fact Bob Log III was born in Tucson, Arizona and is a virtuoso slide player who plays with extremely thick strings tuned very loose that gives him his unique "floppy" sound. Growing up, Log listened to artists such as Chuck Berry, Bo Diddley and AC/DC, later commenting that "That's what rock'n'roll is to me. You take a guitar, turn it up and have a good time…everyone else can go listen to Pearl Jam if they want to." Bob Log got his first guitar at the age of 11, and by the age of 16 he had become smitten with Delta Blues, modelling his slide guitar style on that of Mississippi Fred McDowell. Log began his music career recording with Mondo Guano, a four-piece metal-blues band based in Arizona. Upon leaving Mondo Guano, Log went on to perform as one-half of seminal early Delta punk blues duo Doo Rag. Bob Log III was born when Bob was in the middle of a US tour with Doo Rag and his drummer quit. With necessity , ever the mother of invention, Bob donned a helmet he had picked up in a thrift store, took to the stage and kicked his guitar case for percussion and thus the legend of Bob Log was born. Bob Log eventually found his spiritual home on maverick Mississippi blues label Fat Possum in 1998 and released a trio of classic records: School Bus, Trike and Log Bomb.
In this current world of homogenised and mass marketed music, we need true mavericks like Bob Log III more than ever.

Under 16's must be accompanied by an adult

Travelling in from outside of Stockton-on-Tees and fancy making a night of it? Take advantage of a special rate at the Hampton by Hilton Hotel – only 500 metres from our venue click HERE for more info!